Evelyn Georgieva – Realtor® | Investor | Real Estate Consultant

Residential Sales – Income Property – Passive Cash Flow Investments
Office: (818) 962-0499
Mobile: (562) 310-0495
Email: Evelyn.G@kw.com

Evelyn Georgieva has a vision of handling your real estate needs at a level that reflects integrity and dedication. Evelyn believes in helping families find the perfect home and brings patience, professionalism and service to her clientele. She puts the interest of the client at the forefront of any transaction and believes in direct communication and long-term planning. Evelyn understands the many challenges faced by seller and buyers in today's rapid evolving real estate market. That's why she utilizes the most advanced home-finding and marketing technology available.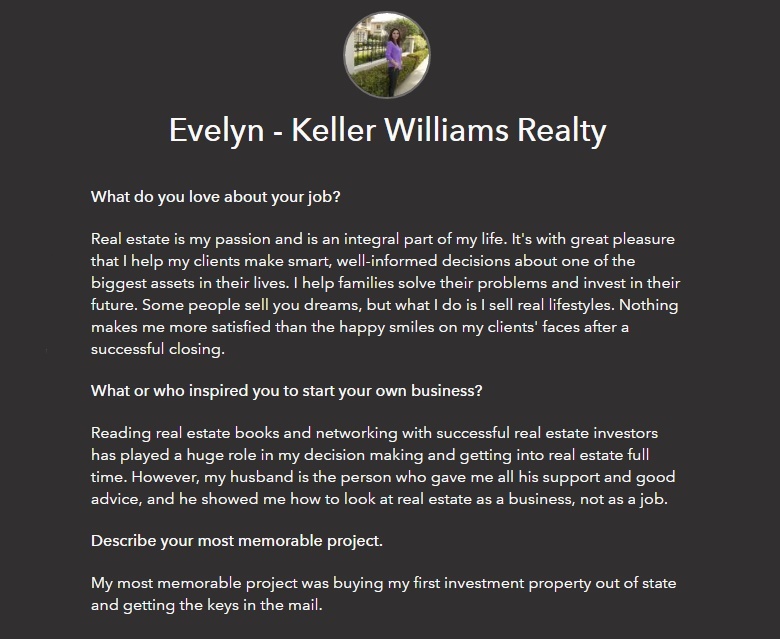 David Coe – Partner | Realtor® | Investor | Advisor

Office: (310) 376-4600
Mobile: (310) 466-0021
Email: david@coerealtor.com
David is a real estate investor and advisor, representing both homeowners and investors, with the COE Real Estate
Team. COE Real Estate specializes in the South Bay area of Los Angeles. As a Realtor®, his focus is working with
divorcing couples, families being relocated and investors. Dave also caters to passive & active investors looking to
transact SFR & MFR, commercial and notes. As an advisor, Dave caters to both active and passive real estate
investors because tenants aren't for everyone. Dave doesn't just preach investing; he is an active investor himself.
He leads a team that is doing ultra-luxury redevelopment in the Hollywood Hills. He also runs a fund that buys
non-performing real estate notes. Dave also founded the South Bay chapter of For Investors By Investors, a real
estate investment club that is 100% focused on education and networking with absolutely ZERO sales pitches
allowed. His experience as a Realtor and Advisor has produced a serious arsenal of resources for sophisticated
homeowners and investors.
Gloria Commiso – Partner | Realtor® | Sales and Luxury Leasing
Office: (310) 376-4600
Mobile: (310) 345-4001
Email: Gcommiso@gmail.com
Prior to selling Real Estate, Gloria worked for fortune 500 companies known for customer service. In addition to
co-owning a Real Estate Brokerage, she managed over 50+ residential and multi-unit properties while participating in
rehabbing homes for resale. After securing a graduate degree in Behavioral Management and Negotiations, she
became a local investor and eventually a listing agent. She has built a 9-year sales career predominantly by referrals
from attorneys and networking groups. In addition, she has been active in the Woman's Council of Realtors, schools
and local civic organizations. Her education and combined background has strengthened her ability to assist clients,
analyze investment potential for buyers and estimate market values for sellers. She has Served KWBC's ALC for 6
years, KWBC's Master Faculty and was named Cultural Icon 5 years in a row 2009-2013 including the Southern
California Regional Impact Culture Award '09.
Chanel Farchione – Executive Assistant

Office: (818) 962-0499
Mobile: (818) 419-7514
Email: chanel@coerealtor.com

Chanel's professional background includes restaurant management and beeing a leader in project management. She
transitioned into Real Estate vis a vis her role as lead meeting coordinator for a Los Angeles Real Estate Investment
Club. Chanel is an extremely detailed oriented, task driven Executive assistant. She assists with the coordination of
marketing, communication, meeting and special events. Most importantly, she helps our team maintain a high customer
service standard by assisting with coordination behind the scenes for our clients who are buying and selling. Chanel is
the primary caretaker for her younger brother and sister. She lives locally in Redondo Beach where she has always had a
fond connection.